Weil Nutritional Supplements Omega-3 Complex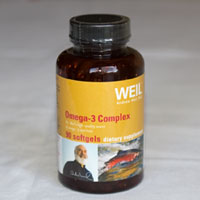 When reviewing fish oil we attempt to judge each brand on three criteria: quality, value for money and fishy burps. The quality of the oil is measured by the amount of pollutants and the quantity of the all important long chain omega-3s in the oil, value for money looks at the quality-price trade off and fish burps addresses the common phenomena for those that take of a fishy after taste from taking omega-3 fish oil.
Quality
The quality of this fish oil is excellent. Pollutants are well below institutionally recommended levels. For the IFOS tested batch mercury content is below detectable levels and PCB content is notably low although a few other oils have even lower levels but this shouldnít worry you. Other pollutants are also at excellently low levels making this a winner on the purity front. The concentration of long chain omega-3ís is also better than stated on the label with the test batch showing 442mg of EPA and 249mg of DPA, matched against the claimed quantities of 400mg and 200mg respectively. The batch was also highly stable showing little sign of oxidation. All this means that Weil Omega-3 Complex provides a high quality, concentrated dose of omega-3 with negligible contaminants.
Value for money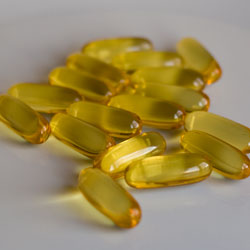 Weil Nutritional Supplements Omega-3 Complex is defiantly on the more expensive end of the omega-3 market. When purchasing our sample pack we found that the price of 90 capsules was comparable to 120 capsule packs of other brands. For this premium benefits Weil Omega-3 Complex offers one of the cleanest products and omega-3 levels above those stated on the label. It is has a particularly good EPA content and some suggest that the two-to-one ratio of EPA to DPA represented in this product is the optimal combination; if that is important for you then this product is a good choice. However, most other brands offer contain omega-3 levels above those stated on the label and many are more generous than Weil. There are also other products that offer the two-to-one ratio. Our recommend inflammation reducing dosage of long chain omega-3s is 2000mg a day; you would need four capsules a day to achieve this which means one bottle will last 22 days rather than the 30 days for 120 capsule bottles. However based on the amount of omega-3 in the IFOS sample batch you may get by with three a day, something that can be said for many other brands too.
Fishy burps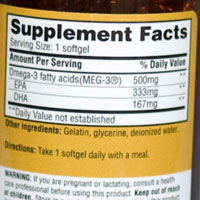 The first few days of taking these capsules I was pleasantly surprised to experience no fish burps. However after two weeks I realized we were not quite in the clear. If you take the capsules after a main meal or just before you go to bed then you will probably notice no significant fishy after taste. On the occasions that I took them with a light breakfast, or drunk a hot drink shortly after taking them then I did experience some level of fishiness in my burps. Even when this occurred the fishiness was not particularly strong and I rate them highly compared to other capsules.
Conclusion
There is no doubt that this is a great product in terms of quality, particularly with regard to low contaminants and fishy burps. It is up to you do decide if the quality of the product justifies itís above average price. Personally I will be using a cheaper IFOS approved brand such as Ascenta NutraSea or Life Extension Omega 3 EPA/DHA.